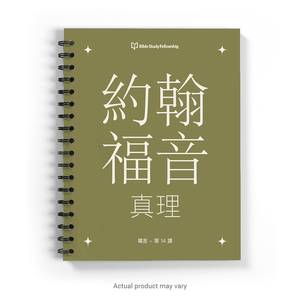 John's Gospel: The Truth Book, Intro-14 (Traditional Chinese Characters)
All products are currently shipping within one business day. 
This book contains the adult John study materials including discussion questions, study notes, lecture note-taking pages and maps. It includes the introduction - lesson 14 for the 2023 - 2024 study year. The book for lessons 15 - 29 will be released later in the year.  

Format:  spiral-bound book with a sturdy, no-tear poly cover.
Language: Traditional Chinese Characters